#EN
Sonia Bazantay is a contemporary French artist born in 1971. Graduated from ESSA Duperré Paris and Parsons' School NYC., she received a double training in both Fine Arts and Applied Arts. A higher Diploma of Applied Arts "DSAA fashion and environment » with the congratulations of the jury, strengthened her own transversal approach between fine arts and design. Adding her personal researches to the experience in design and forecast agencies, she created "out of standard" sets & spaces for Fashion.

From the end of the 90s to 2008, she shared a life between Paris and Milan, working with Alessandro Mendini, le Public Système, Mattel, Trudi, Chicco. In the 2000s, she carried on creating specific environments for Nelly Rodi, Petit Bateau, Caffarel, Diesel and other brands.

Consecutively member of the French Color Committee and of the MIC (its Italian equivalent), she has contributed to numerous consultation meetings intended for the textile sector and industry. This expertise places color in particular at the heart of his practice.
Today, her action has focused on transmission, research on of new graphic tools and sculpture. She lives and works in Montpellier.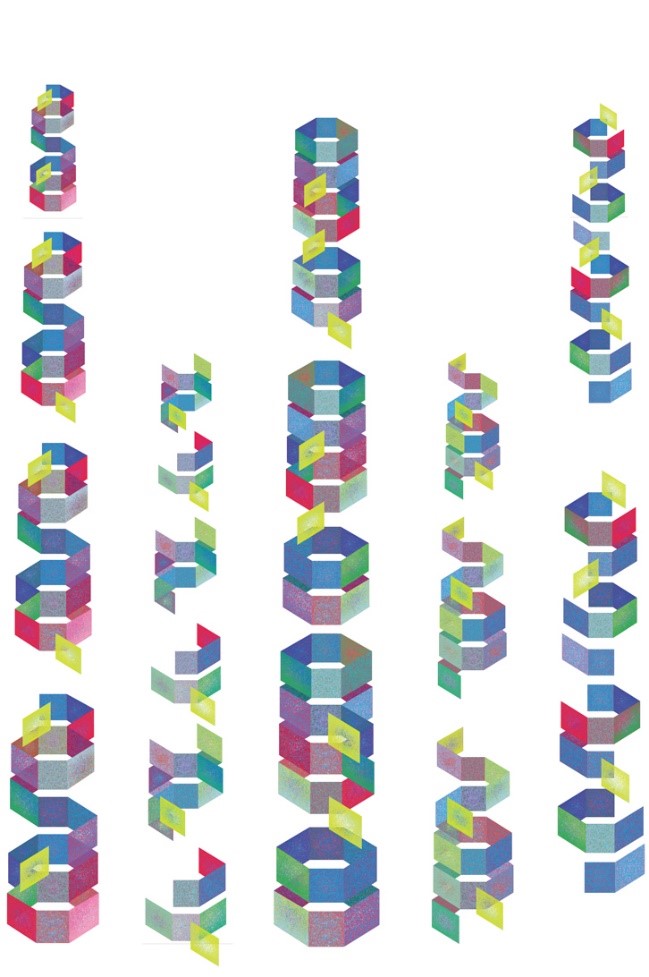 #FR
Sonia Bazantay est née à Rennes en 1971, Diplomée de L'ESSA Duperré Paris et de la Parsons' School New York. Un DSAA « Mode et environnement » la conforte dans une approche transversale des arts et des arts appliqués. À la fin des 1990, alors qu'elle se partage entre Paris et Milan, le design s'ajoute à la réalisation des scénographies: au sein de l'atelier d'Alessandro Mendini, pour Nelly Rodi, Caffarel, Diesel S.p.A.
Membre Consécutivement du Comité Français de la Couleur et du MIC (son équivalent italien) elle a contribué à de nombreuses réunions de concertation destinées à la filière textile et l'industrie. Cette expertise place notamment la couleur au cœur de sa pratique.

Avec la réalisation de projets au Japon auprès et avec des communautés pratiquant le Son-Sughi Ban (2017); ainsi qu'à travers le projet LOOM (2018), elle a développé diverses pratiques en s'appuyant sur des savoirs faire spécifiques.

Aujourd'hui, l'élaboration d'outils pour la création, le dessin et la sculpture, constituent la colonne vertébrale d'une recherche constante où arts et arts appliqués se confondent. Elle vit et travaille à Montpellier.

ARTISTIC STATEMENT:
I was trained in the practice of both fundamental arts and applied arts. Therefore, my research navigates between graphic research, sculpture and what I learned from design in a transversal approach. I explore this change of era, with the use of both traditional craftsmanship and new technologies. I see my practices as belonging to a collective experiment beyond disciplines & borders.

Sonia Bazantay
PROPOS:
Mon exploration navigue entre la recherche graphique, la sculpture et ce que j'ai acquis par la pratique des arts appliqués. Dans une approche transversale, j'emprunte autant à l'artisanat qu'aux nouvelles technologies. Je vois mes travaux comme appartenant à une expérience collective au-delà des disciplines et des frontières.

Sonia Bazantay